Attending HHAI2022 and HCSHI2022 in Amsterdam
This week we (Stefani Tsaneva & Marta Sabou) attended the first International Conference on Hybrid Human-Artificial Intelligence that took place as an on-site event in Amsterdam.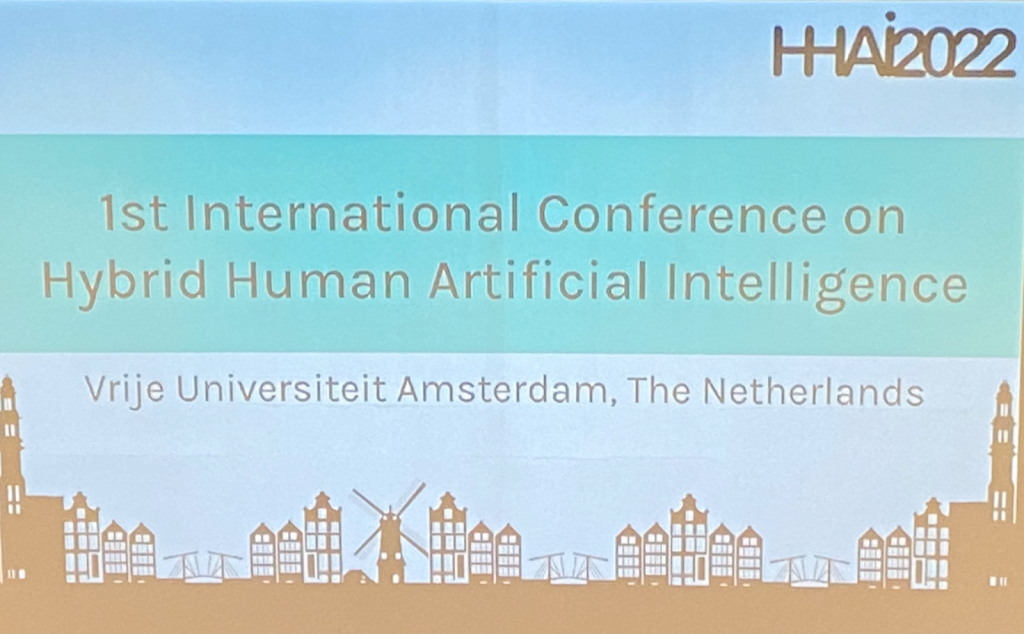 The conference covered topics focusing on the study of AI systems that cooperate synergistically, proactively and purposefully with humans, amplifying instead of replacing human intelligence.
As part of the pre-conference events, our paper, titled "Hybrid Human-Machine Evaluation of Knowledge Graphs" was accepted to the "Human-Centered Design of Symbiotic Hybrid Intelligence" workshop, during which we worked collaboratively on designing human-AI patterns for different scenarios. With our paper we contributed to a design pattern for the use case of Personalized (Emotional) Care, where a social robot (relying on a knowledge graph and monitored by an expert) offers emotional support and a safe space for sharing to a child, who might be conscious of talking to an adult psychologist.
The main conference event started with a keynote by Paul Lukowicz on HumanE AI Net
vision of Human Centric AI touching on the topic of shifting the focus from human-in-the-loop to human-in-control systems and continued with many more insightful presentations on hybrid intelligence applied in various use cases.
A list of the presented papers can be found at [1] with " HyEnA: A Hybrid Method for Extracting Arguments from Opinions"[2] winning the best paper award.
During our stay, we managed to engage in many interesting discussions with researchers from all around the world and attended the organised social event- a boat trip around the beautiful Amsterdam landscapes.
We are looking forward to attending next year's edition in Munich.
[1]
https://www.hhai-conference.org/accepted-papers/
[2]
https://www.hhai-conference.org/wp-content/uploads/2022/06/hhai-2022_paper_16.pdf