Four Papers accepted at ESWC 2023
We are happy to announce the acceptance of four papers from members of our lab to ESWC 2023:
Ph.D. Symposium: S.Tsaneva "Evaluating Knowledge Graphs with Hybrid Intelligence"
This paper describes a research plan for the investigation of a human-centric knowledge graph evaluation approach, relying on hybrid (human-AI) intelligence. It leverages techniques from the semantic web, human computation & crowdsourcing, and multi-agent systems communities for ensuring an efficiently planned, scalable, well-coordinated, and thus transparent knowledge graph evaluation process.
Resource Track: F. J. Ekaputra, M. Llugiqi, M. Sabou, A. Ekelhart, H. Paulheim, A. Breit, A. Revenko, L. Waltersdorfer, K. E. Farfar, and S. Auer, "Describing and Organizing Semantic Web and Machine Learning Systems in the SWeMLS-KG".
This work further extends our SWeML Systems classification from our systematic mapping study with the following three contributions: 1) SWeMLS ontology, 2) SWeMLS pattern library, and 3) SWeMLS-KG with machine-readable metadata on the surveyed papers and extracted information. All described resources can be accessed here.
In-Use Track: A. Breit, L. Waltersdorfer, F. J. Ekaputra, S. Karampatakis, T. Miksa, and G. Käfer, "Combining Semantic Web and Machine Learning for Auditable Legal Key Element Extraction".
This paper presents a system to automatically extract key elements from legal documents using machine learning approaches.
Main contributions are the combination of machine learning approaches supported by an ontology to improve performance, as well as the auditability component and method collecting provenance traces to improve the transparency of the system.
"The next 20 years" Track: Gary P. Tchat, Amin Anjomshoaa, Daniil Dobriy, Fajar J. Ekaputra, Elmar Kiesling, Axel Polleres, and Marta Sabou. "From Semantic Web to Wisdom Web: A Retrospective on the Journey to 2043".
The paper is a work of fiction, written in 2023 and describing research that we envisioned and imagined to be carried out in and until 2043. In the paper, we briefly described the journey of Semantic Web research from the past-present (2020-2023) and our imagination/vision of the future research direction and notable results (2023-2043). One example of such future research direction is the amalgamation of quantum computing and semantic web technology towards the so-called "Wisdom Web".
For an overview of when which paper will be presented, have a look at the figure.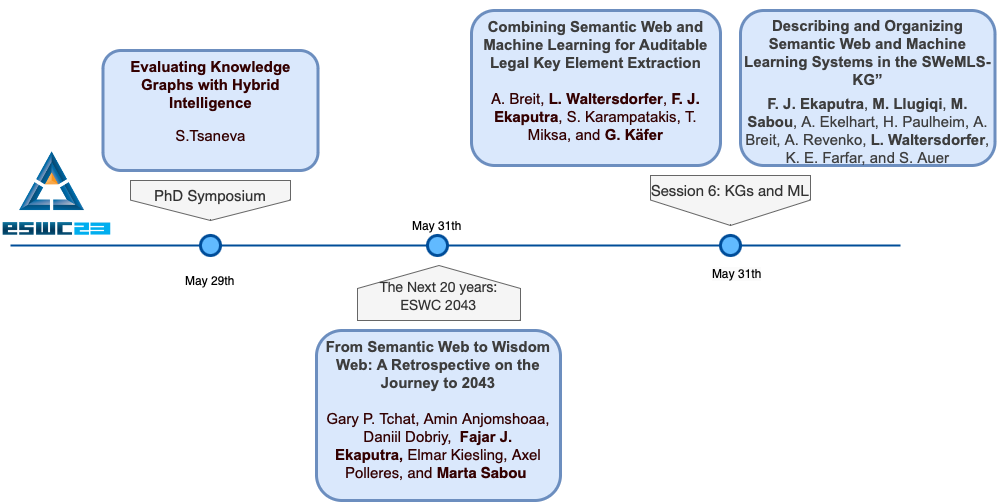 We are looking forward to attending ESWC 2023!