Guest Researcher visit from Indonesia
In the last month of May 2023, Dr. Ayu Purwarianti from ITB, Indonesia [1], visited our Semantic Systems group at the WU. Dr. Purwarianti is the head of the AI Center at ITB, Indonesia – the leading technical University in Indonesia, as well as a prominent figure in AI research in Indonesia. In particular, her research background focuses on Natural Language Processing (NLP), especially for the Indonesian language – its official language, "Bahasa", and around 700 local languages.
She visited the WU for four weeks in May, in a research visit funded by the OeAD Ernst Mach follow-up grants aimed at University faculties in South-East Asia to initiate cooperation with Austrian universities.
The goal of the visit was to deepen her understanding of Hybrid AI, especially SWeMLS – systems that combine Semantic Web and Machine Learning approaches, in the context of NLP research. Her interests align with the current research topics at our Semantic Systems research group, geared towards understanding and pattern-based representation of SWeMLS.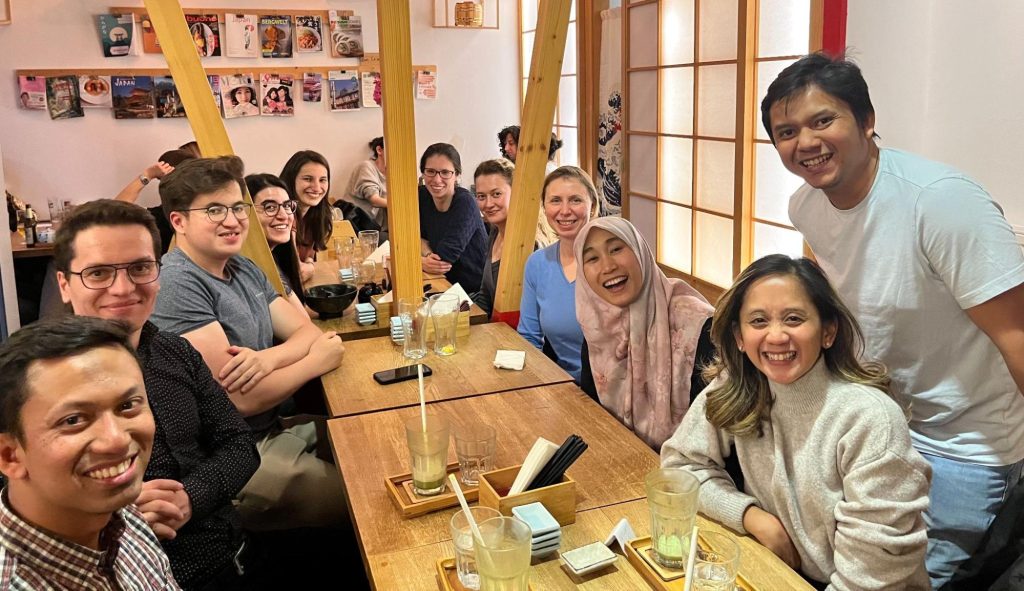 During the visit, we had several fruitful discussions with the Semantic Systems group and the wider WU-DPKM institute, which included a guest talk [2] and a welcome dinner (cf. Figure 1). The guest talk focused on four main research topics:
The data collection of Indonesian official and regional languages, including NLP tools and pre-trained language models built from the collected data.
NLP methods and tools for social media analytics for the Indonesian language.
NLP methods and tools for Indonesian legal rules.
Question Answering Systems for the Indonesian language.
In the (near) future, our cooperation will continue by building on our prior systematic mapping study on SWeMLS [3] and extending it with an in-depth analysis of SWeMLS related to NLP tasks, such as chatbots and hoax analyzers. 
We are looking forward to furthering our cooperation on this topic!
[1]
https://aicenter-itb.com/team/
[2]
https://www.wu.ac.at/en/dpkm/news-details/detail/guest-talk-by-ayu-purwarianti/
[3] Breit, A., Waltersdorfer, L., Ekaputra, F.J., Sabou, M., Ekelhart, A., Iana, A., Paulheim, H., Portisch, J., Revenko, A., Teije, A.T. and van Harmelen, F., 2023. Combining machine learning and semantic web: A systematic mapping study. ACM Computing Surveys.
https://doi.org/10.1145/3586163